Mission
The mission of Crossings' Kids is to provide a safe environment where our children know they are loved by a larger faith community that is finding their way back to God. We want to help them become aware of the presence of God in their life and draw closer to the life of Jesus.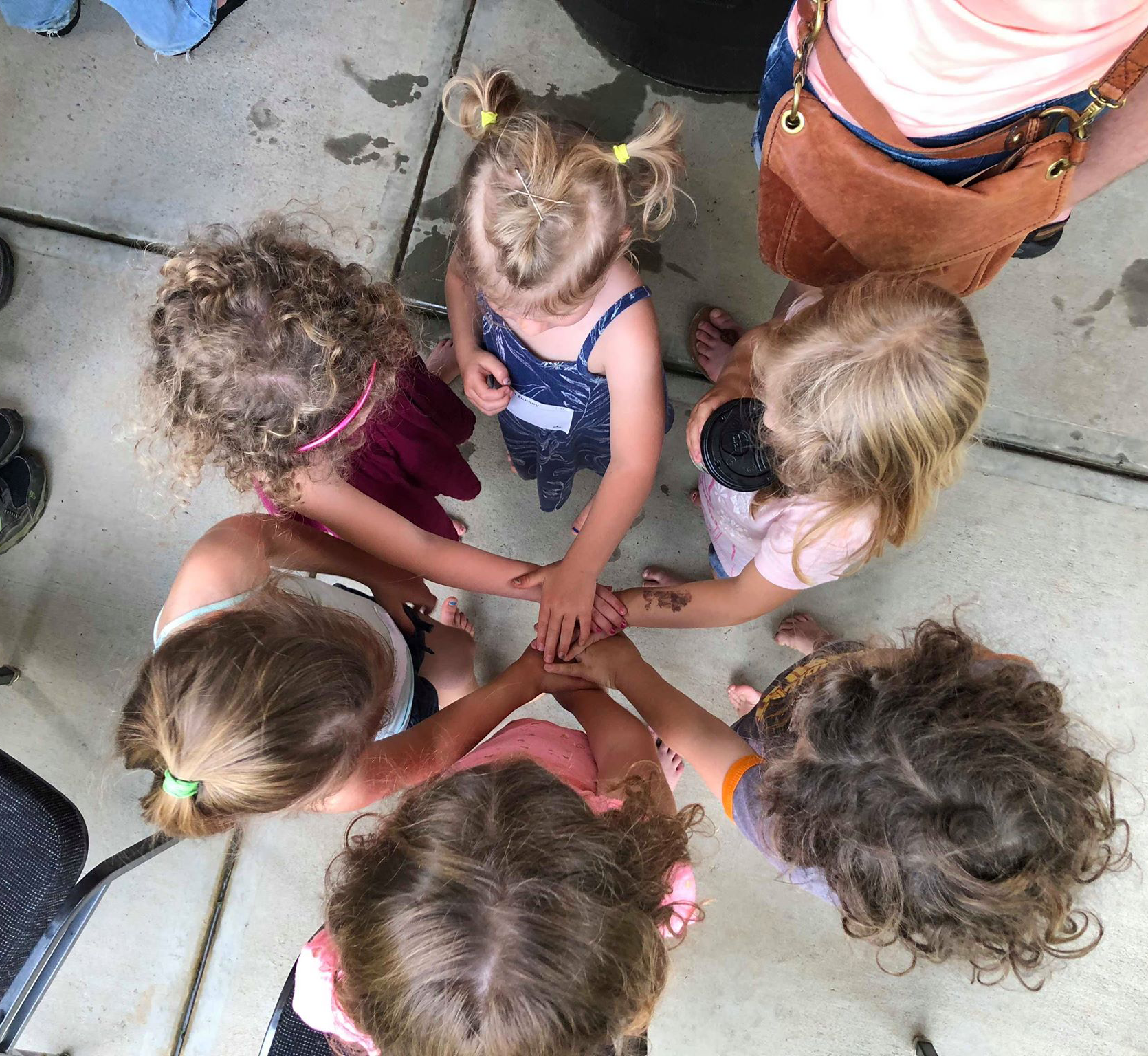 Vision
We dream of Crossings' Kids being a community where…
kids enter into the story of God every week.
kids enter into the story and come to understand that God is good and Jesus is real.
kids discover that God made us, loves us, and we can trust God with our lives.
kids are encouraged to be creative, ask questions, and dream about changing the world.
kids are valued and loved by their adult and student leaders.
parents feel confident that their children are safe and protected.
kids know they are part of a bigger community, finding their way back to God.
When.
We recommend arriving 15 minutes prior to the worship gathering in order to get your child checked in.
Experience.
Parents and guardians will go to the check-in desk to receive matching security labels for them and their children. Kids will then be placed into a class that is appropriate for them. The parent or guardian may walk them to their classroom and meet the leader that will be caring for them.
During the gathering, children will spend time building community with one another through play, listening to the story of God, and responding to the story through activities.
At the end of the gathering, the parent or guardian may walk to the child's classroom and back to the check-in desk to have their matching security labels checked.
North (Christenberry Elementary) children ages 3 and up will be checked in and will go sit with their parents or guardians for a song and a kids teaching as part of the larger gathering. After the kids' teaching, they will go outside to play on the playground or in the classroom. Infants and 1-2 year olds can be checked into Kids' City for the entire gathering.
Our 4th-5th graders will meet with their small group at both locations. For questions, about kids at these gatherings, contact Rachel@crossingsknoxville.com
Curriculum.
A goal of our faith community is to support families as they help their children become aware of the presence of God in their lives. In order to do this, we write a lot of our own curriculum to integrate the major themes of the adult gatherings.
Our lessons consist of scripture, children's literature, prayer, and space for kids to wonder and question.
We also use the Godly Play curriculum as a major resource. This is a Montessori based curriculum. You can look it up at www.godlyplayfoundation.org.
Location.
Downtown (4 Market Square), Crossings' Kids is located on the 3rd floor of 4 Market Square above the Square Room. Look for signs directing you to the stairs or the elevator.
North (Christenberry), is located in the classrooms next to the Little Theater in Christenberry Elementary School where our Sunday evening worship gatherings are being held.
"where children know they are loved by a larger faith community that is finding their way back to God"
Safety
Safety is our first priority for Crossings' Kids.
We take seriously that people entrust their children to our care on Sundays. Before entering our Crossings' Kids space on a Sunday, everyone must first stop at the Check-In desk to receive either a blue wristband or a sticker. No one is allowed to enter without a sticker or wristband. This includes all of our leaders who have been background checked and trained annually.
The stickers and wristbands have matching numbers on them, and only the person who drops the child off is allowed to pick up that child before they leave. No matter how many times someone has been to Crossings' Kids, or how well we know your children, you will still be asked to show us your sticker or wristband. If there is a concern with your child while you are in the worship gathering, the number will be displayed on the screen. If this occurs, please return to the kids' space.
We understand and appreciate that every child is unique. Our desire is to create space for any child, no matter what, to experience Jesus and their faith community. We take seriously the allergies and special needs that many of our children have and work closely with parents to make Crossings' Kids a place where every child feels safe and successful.
To ensure the health and safety of our kids and leaders, we ask that you do not bring a child to Crossings' Kids if they are displaying any of the following within the past 24 hours:
fever (100 degrees or above)
diarrhea or vomiting
rash
sore throat
COVID symptoms or known COVID exposure